The building blocks of email marketing
Let's explore what makes email marketing, how we can start from scratch, and how each element will lead to success. First off: building your email list.
What can you expect?
Let's dive into the first building block of email marketing, which is building your email list.
Here is what you can discover:
How to Build an Email List from Scratch?
Hey there, fellow marketers! You're in the right place if you're just starting your email marketing journey. Building an email list from scratch is like creating a community of loyal fans who genuinely want to hear from you. It's not rocket science, but it does require some finesse and creativity.
In this guide, we'll walk you through the dos and don'ts of email list building, and then we'll dive into 6 creative strategies that'll have your subscribers flocking to your inbox. So grab your virtual toolkit, because we're about to build a list that would make any marketing guru proud!
3 Dos in Building Your Email List
These three dos are the sturdy foundation upon which we'll build your epic email list. So, let's dive into the essentials, shall we?
1. Be Clear on Your Description, Expectations, and Delivery
Imagine signing up for a newsletter about cute cat videos only to receive daily updates on taxidermy techniques. Yikes! To avoid disappointing your subscribers, be crystal clear about what they can expect when they join your list. Your description should match the content you deliver, and your frequency should align with what you promised.
Take inspiration from TED. They offer multiple newsletter options, each one with a clear description, frequency boldly displayed and even an example of the newsletter. This way there is no confusion about what you are signing up for.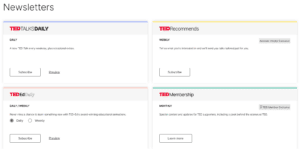 2. Make It Enticing for People to Sign Up
Nobody wants to just give out their email nowadays. Make your sign-up process irresistible by offering exclusive content, discounts, or insider knowledge. Think about what your audience values most and use it to lure them in.
Case in Point: HelloFresh is a master of this. They offer a discount to new users who sign up for their newsletter, making it hard to resist.

3. Have Multiple, Accessible, and Relevantly Located Subscription Links
Your subscription links shouldn't be hidden like a buried treasure. They should be easily accessible and strategically placed across your website, blog posts, and social media profiles. Remember, convenience is key. Do not overdo it and accidentally spam people with your sign-ups either. Test it out with an impartial colleague or person and try and find the balance between spamming and a secret treasure.
For example:
Have a delayed pop-up on your home page
Have a sign-up at the bottom of popular blogs
Or on your about 'us' page.
Somewhere where you can conveniently run into it, and also a place where you would find it if you were specifically looking for it.
3 Don'ts to Avoid When Building Your Email List
Now, let's get the 'not-so-cool' stuff out of the way before we dive head first into the exciting email list-building adventures. These three don'ts are like the soggy sandwich at the picnic; you definitely want to avoid them.
1. Don't Buy Your Email List
Buying an email list is the act of paying a company to send you relevant leads' contact information, so you can cold email them. Tempting as it may be, purchasing email lists is a big no-no. These lists often contain disinterested or unqualified leads who will likely mark your emails as spam. Put yourself in the recipient's shoes, when someone you don't know knocks at your door, you just want to pretend you aren't home, don't you? It's the same with emails you didn't sign up for yourself, they aren't welcome. Save your money for a more effective way of marketing. 😉
2. Avoid Making Your Sign-Up Page Too Long
Long forms with too many questions are the enemy of sign-ups. People are busy, and if you ask for too much information, they'll bounce before even hitting "Submit." Which means you are left with nothing. Stick to the essentials: name and email. You can gather more details later as your relationship grows.
3. Don't Spam People with Your Subscription Links
We get it; you're excited about building your list. But bombarding your audience with pop-ups, slide-ins, and intrusive forms can be a major turn-off. Be subtle, and let your audience discover the value of your content on their own terms. (See the do list for example on what you should do.)
6 Creative Ways to Build Your Email List
Now that we've covered the pitfalls to avoid, and the definite Dos for building your email lists, let's shift gears and explore the exciting landscape of creative email list-building strategies. These tactics not only dodge the don'ts but also sprinkle a dash of innovation into your strategy. So, buckle up as we cruise through these 6 creative avenues to turbocharge your subscriber count!
1. Host Exclusive Webinars or Workshops
Offer valuable webinars or workshops related to your niche. People love free knowledge, and they'll happily exchange their email addresses for a front-row seat. Whether it's for a live webinar or a pre-recorded one, it's commonly accepted and even expected to receive this information via email. Just make sure you follow this up with a double opt-in once the webinar is over and before you start sending them unrelated information. This way you avoid being marked as spam, and you'll be able to keep your true fans in your mailing list.
2. Create Interactive Quizzes or Assessments
Engage your audience with fun quizzes or assessments that provide personalised results. Of course, there are 2 ways to go about this one, and it's up to you to decide which approach suits your business better.
In method 1, as is the case with Buzzfeed quizzes, you get to know the quiz answer before they ask for your email. Meaning, you can participate and know the results without giving up your email. This can be effective with entertainment content, after a few quizzes the user might want to stay in touch with more of your fun content.

In method 2: you only reveal the answer in an email. This is more advisable for longer quizzes and ones that require a lot of work to make. For example, this haircare brand 'Function of Beauty' has a haircare quiz that lets you find out what you need in your shampoo to meet your haircare goals. A creative way to get people involved and an opportunity for them to offer their products as a solution.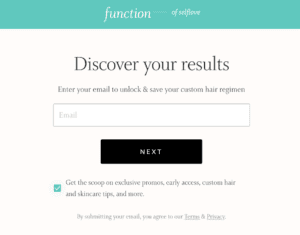 3. Offer a Free E-book or Whitepaper
Write an informative e-book or whitepaper addressing a pain point in your industry. Our very own automation guide is a perfect example of this strategy in action. We offer our readers a comprehensive email marketing automation guide for free as long as they leave their email behind first. This works great because we can share our expertise with them, and we attract our target audience.
4. Implement Exit-Intent Pop-ups on Your Website
Capture those visitors who are about to leave your website by using exit-intent pop-ups. Ask them to stay in touch through your newsletter or offer them a compelling reason to stay in the form of a discount, free resource, or exclusive access. This also works great at the end of a blog or article, this way you have given visitors the time to understand who you are or what you have to offer, making the chances that they'll leave their email behind greater.
5. Run Contests and Giveaways
Contests and giveaways are a sure-fire way to generate buzz. Some start as a Social media competition aimed at finding more niche market customers, while others offer a free giveaway for sign-ups. For example, Brussels Charleroi Airport organised an Instagram competition to win a weekend trip to Croatia for 2 in exchange for sign-ups, shares and comments from local followers.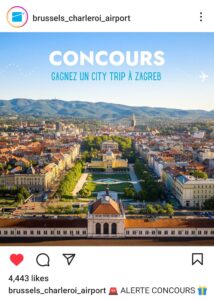 Another example of a giveaway that's enticing, but not time-sensitive is WISE. An online banking company, which gives you 90 Euros if you help someone create a bank account with them, through a personalised link.  Enticing enough for their customers to just share their link with everyone they know, just in the hopes of. Both these examples can be translated into email sign-ups, the giveaway just depends on what your target market values.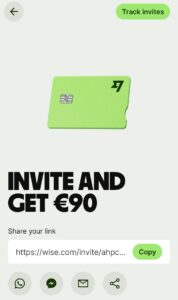 6. Write a Guest Blog Post and Add Your Sign-Up Link
Share your expertise by writing guest blog posts for relevant websites in your niche. This can be a blog post or a page by your partners. We do this with some of our tech partners and with our agency partners. If this isn't an option you could find niche relevant communities where your knowledge will be appreciated. Lastly, you could even participate as a guest in popular community newsletters that specialise in sharing knowledge in your industry. If you choose to go with this creative way make sure you focus on knowledge sharing and not selling, and most importantly always include a link to your sign-up page in your author bio or at the end of your content.
In conclusion, building an email list from scratch is an art, not a science. Keep experimenting, stay genuine, and always provide value to your subscribers. Remember, Rome wasn't built in a day, and neither is your email list. So, go out there, use these strategies, and watch your list grow steadily. Happy emailing, marketers!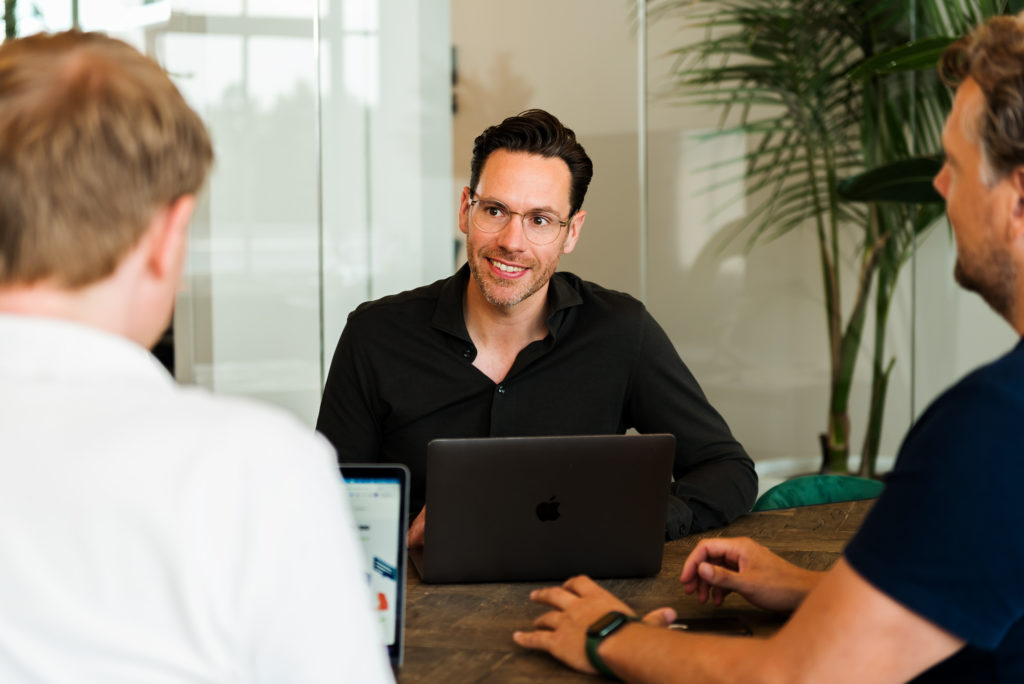 Looking to grow your business?
Book a demo with our specialists to get a complete look of the marketing automation platform that can match your ambitions.